Grace Notes
Bibliography
>
Grace Notes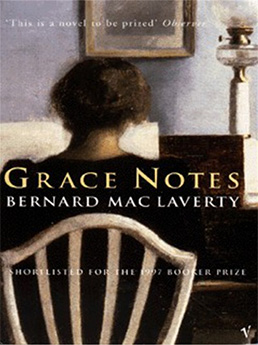 GRACE NOTES
Cape /Blackstaff Press/Vintage(1997)
This is part of the life of Catherine McKenna - estranged daughter, vexed lover, new mother and a woman composer making her mark in a male dominated field.
On the remote island of Islay she struggles for her artistic life in the midst of a relationship gone dangerously wrong. In Glasgow she gives birth to a child - and receives a career-making BBC commission. And in her home town in Northern Ireland she returns to bury a difficult father, forge a tentative peace with her mother and confront the ghosts of a constricting past.
Through it all she strives to maintain the habit of art, in the face of depression, privation and misunderstanding.
'Grace Notes is one of the most insightful and powerful modern novels from a woman's perspective I've read by any author, male or female.'
Rosemary Goring 14. April 2012
"Grace Notes should have won the Booker Prize – and deservedly won the Saltire – for its quiet beauty and breadth of vision"
John Burnside, Scotsman Books of the Year
"There are some writers – William Trevor is one, Alice Munro another – who are so accurate, so subtle, that you are hardly aware of reading them at all … MacLaverty is in the same mould.: there are no pyrotechnics here, no conjuror's tricks. He doesn't use his profound insight and compassion to dazzle, but to illuminate…Grace Notes is a small masterpiece… resonant, lovely, true."
Cressida Connolly