Matters of Life & Death
Bibliography
>
Matters of Life & Death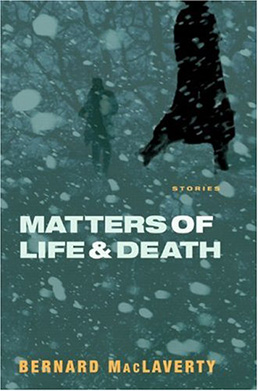 Cape (2006)
Beginning with the sudden, nauseating terror of a family caught up in an explosion of shocking sectarian violence and ending with the white-out of an Iowa blizzard and a different kind of fear, Matters of Life & Death is a book about bonds and connections, made and broken, secret and known.
Vivid, beautifully controlled and written with effortless skill and empathy, these stories are object lessons in the art of short fiction.
MATTERS OF LIFE & DEATH by Bernard MacLaverty
The title of MacLaverty's collection of tales could be a thematic touchstone for his fiction in general, which is studded with subtle juxtapositions of existence and mortality. One of the most memorable vignettes here is the gently reflective The Clinic, where a copy of Chekhov's stories acquires a talismanic quality for a man awaiting medical tests. Elsewhere, On the Roundabout and Up the Coast deal with savage acts of violence (the former about a Good Samaritan who saves the victim of a sectarian beating, the latter featuring a rape that has fatal repercussions for the perpetrator), but the author's skilful nuances of tone produce startling different effects. If you find another volume of stories this year as good as MacLaverty's, you will have been doubly blessed.
Sunday Times 27.5.2007 (Vintage). TL
Contains:
On the Roundabout
The Trojan Sofa
Matters of Life & Death 1
Learning to Dance
The Clinic
A Trusted Neighbour
A Belfast Memory
The Wedding Ring
The Assessment
Up the Coast
Matters of Life & Death 2
Visiting Takabuti
Winter Storm