A Time To Dance & Other Stories
Bibliography
>
A Time To Dance & Other Stories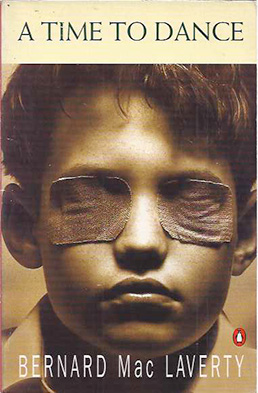 A TIME TO DANCE and Other Stories
Cape /Blackstaff Press/Vintage(1982)
Bernard MacLaverty' s beautifully turned stories are full of humour, terse realism and moments of touching or shocking surprise.
Nelson plays truant and sees something he wishes he hadn't in the the title story, 'A Time to Dance'.
In 'Phonefun Limited' Sadie and Agnes, retired prostitutes, hit upon an inventive new way of 'making someone happy with a phone call', while in 'My Dear Palestrina' a remarkable music teacher initiates her pupil onto the mysteries of art and maturity.
"Bernard MacLaverty's prose ... is vivid and virtually faultless. He has the knack of breathing life into a character in the time it takes to say a simple sentence...one of the best practitioners of the genre we have."
James Campbell in The New Statesman (30 April 1982)
"... not since J.D.Salinger's For Esme With Love and Squalor have I enjoyed so much a collection of stories. I mean pleasure - real pleasure."
Paul Durcan in The Cork Examiner (4th May 1982)
Contains:
Father and Son
A Time to Dance
My Dear Palestrina
Life Drawing
Phonefun Limited
The Daily Woman
No Joke
The Beginnings of a Sin
Eels
Language, Truth and Lockjaw