Secrets & Other Stories
Bibliography
>
Secrets & Other Stories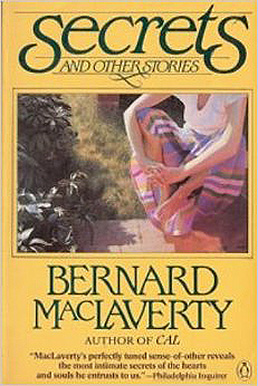 SECRETS and Other Stories
Blackstaff Press/Vintage (1977)
Married love, male friendship, a small boy intruding upon secret adult grief, a husband contemplating infidelity - in these wonderful stories Bernard MacLaverty catches his characters at moments of epiphany, when ordinary life is set alight with sudden knowledge, memory, regret or desire.
"... what makes this collection memorable is the way it is charged with a sense of Ireland and reverberations of Irish literature - Yeats, Joyce, Synge, Flann O'Brien - and Mr MacLaverty sits perfectly comfortably with these august shades."
William Boyd in The New York Times Book Review ( Nov 11 1984)
"Secrets is a marvellously good collection of short stories. Here is the pain, the guilt, the desperation depicted with compassion and great humour. Bernard MacLaverty manages to slip through that mysterious barrier that exists between good, serious, well-written prose and art."
Jennifer Johnston in Hibernia (10.6.77)
Contains:
The Exercise
A Rat and some Renovations
St Paul Could Hit the Nail on the Head
A Happy Birthday
Secrets
The Miraculous Candidate
Between Two Shores
Umberto Verdi, Chimney Sweep
Where the Tides Meet
Hugo
A Pornographer Woos
A Present for Christmas
Anodyne
The Bull with the Hard Hat
The Deep End